Cartoni.wiki

Cartoni animati

Cartoni animati - cartoni Disney - cartoni K2 - phineas and Ferb - Phineas e Ferb personaggi

21/06/2019

23/06/2019

631
Phineas e Ferb è un cartone animato in cui i due protagonisti danno sfogo alla loro fantasia per invenzioni davvero incredibili che li trasporterà no in avventure uniche
Phineas e Ferb è un cartone animato musicale creato da Dan Povenmire e Jeff Marsh che è andato in onda per la prima volta ad agosto 2007 e che vede come protagonisti due fratellastri unici e geniali che, ogni giorno delle loro vacanze estive danno sfogo alla loro creatività e immaginazione per realizzare delle invenzioni che spesso li porteranno a vivere delle avventure fantastiche.
I personaggi di Phineas e Ferb sono stati anche protagonisti di un film di animazione del 2011 intitolato Phineas e Ferb: Il film - Nella seconda dimensione.
Il 7 maggio 2015 la Disney ha annunciato la fine della produzione del cartone animato poichè i due creatori Dan Povenmire e Jeff Marsh stavano lavorando su una nuova serie intitolata La legge di Milo Murphy trasmessa su Disney XD dal 2017.
Trama
Il cartone animato segue le avventure dei due fratellastri Phineas Flynn ( con la voce in originale di Vincent Martella ) e Ferb Fletcher ( con la voce in origianle di Thomas Sangster ), che vivono nella città immaginaria di Danville, in un'area (non specificata) a tre stati, mentre cercano dei modi per occupare il loro tempo durante le loro vacanze estive. Spesso le loro stravaganti idee li vedono coinvolti in progetti di costruzione complessi, a grandezza naturale e apparentemente pericolosi. La sorella maggiore di Phineas, Candace Flynn ( con la voce originale di Ashley Tisdale ), ha due ossessioni: svelare alla madre le idee di Phineas e Ferb e conquistare l'attenzione di un ragazzo di nome Jeremy ( con la voce in originale di Mitchel Musso ).
Nel frattempo, l' ornitorinco Perry, che è l'animale doimestico della famiglia, agisce come un agente segreto per un'organizzazione governativa di tutti gli animali chiamata OWCA ("Organizzazione senza un acronimo cool") nel tentativo di combattere il malvagio Dr. Heinz Doofenshmirtz.
Personaggi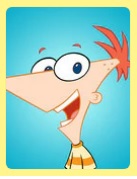 Phineas
Phineas è sempre alla ricerca di modi per ottenere più divertimento di ogni giorno d'estate per intrattenersi. Lui con la testa triangolare è la mente delle invenzioni che tendono a distrarlo dalle altre cose.
Ferb
Ferb è la mente geniale che c'è dietro tutte le invenzioni del fratellastro. Lui realizza materialmente tutto ciò che la mente di Phines elabora.
Perry l'ornitorinco
Sembrare semplice e innocente è solo il modo in cui Perry tiene la sua copertura mentre combatte contro il dottor Doofenshmirtz.
Candace
E' la sorella maggiore di Phineas e la sorellastra di Ferb e crede che sia il suo lavoro mantenere la mamma aggiornata sui guai che combinano Phineas & Ferb.
Dr. Doofenschmirtz
Dr. Doofenshmirtz è uno scienziato determinato a causare ogni tipo di caos e passa le sue giornate a progettare piani bisbetici per conquistare la città e dintorni.
Baljeet
Baljeet è il brillante amico di Phineas e Ferb. È felice di aiutare i ragazzi a trasformare le loro grandi idee in realtà!
Buford
Buford è il quartiere tarchiato di Bully con un grande atteggiamento, un cervello piccolo e una scarsa capacità di attenzione.
Isabella Garcia-Shapiro
Isabella viene coinvolta in tutte le avventure di Phineas e Ferb.
Jeremy
Jeremy lavora al Mr. Slushy Burger ed è il ragazzo di cui è innamorata Candace.
Stacy
Stacy ricorda a Candace che hanno cose migliori da fare, che vedere cosa stanno combinando i ragazzi.
Take Two with Phineas and Ferb
In questo spin-off del cartone animato i protagonisti Phineas e Ferb sono parte di uno show e insieme agli altri personaggi intervistano delle celebrità in carne e ossa (clicca qui per la sigla inziale »).
Elenco invitati
Jack Black
Andy Samberg
Seth Rogen
Tony Hawk
Taylor Swift
Regis Philbin
Neil Patrick Harris
Randy Jackson
Emma Roberts
Cedric the Entertainer
David Beckham
Howie Mandel
Miss Piggy
Tom Bergeron
Ty Pennington
Shaun White
Larry King
Jason Segel
Ben Stiller
Guy Fieri
Diego Ramos
Videogiochi
Sigla originale
La sigla d'apertura originale di Phineas and Ferb è cantata dalla band statunitense dei Bowling for Soup, è stata nominata per un Emmy Award nel 2008.
Theme song lyrics

There's 104 days 
of summer vacation
And school comes 
along just to end it
So the annual problem 
for our generation
Is finding a good way 
to spend it

Like maybe...
Building a rocket
Or fighting a mummy
Or climbing up the Eiffel Tower

Discovering something 
that doesn't exist (Hey! )
Or giving a monkey 
a shower Surfing tidal waves
Creating nanobots
Or locating Frankenstein's brain 
(It's over here! )

Finding a dodo bird
Painting a continent
Or driving your 
sister insane (Phineas! )

As you can see
There's a whole 
lot of stuff to do
Before school starts 
this fall (Come on Perry)

So stick with us 'cause 
Phineas and Ferb
Are gonna do it all
So stick with us 'cause 
Phineas and Ferb are
Gonna do it all!
(Mom! Phineas and Ferb 
are making a title sequence! )


Sigla iniziale italiana
La sigla iniziale italiana di Phineas e Ferb ha la stessa base dell'originale, ma con un testo completamente in lingua italiana ed è cantata da Nicola Gargaglia.
Testo sigla iniziale

Poco più di tre mesi 
di pura vacanza e poi 
ricomincia la scuola...
Sembrerebbe davvero 
una grave mancanza 
sprecare il tempo 
che vola...

Potremmo!

Vedere Marte, 
trovare una mummia 
o fare un'arrampicata!
Scoprire una specie 
che ancora non c'è, 
(ciao) lavare una scimmia imbranata!
Cavalcare il surf, 
creare chissachè 
o perdere un grosso cervello! 
(Eccolo è qui!)
Scovare rarità, 
dipingere città, 
o fare il bravo fratello! 
(Phineas!)
Approfittiamo in attesa che 
il prof. ci metta tutti ko!

Restate qui 
con Phineas & Ferb 
comincia il loro show!
Restate qui con 
Phineas & Ferb 
comincia il loro show!

(Mamma! Phineas e Ferb 
hanno fatto la sigla iniziale!)


Doppiatori italiani

Dialoghi 
Danilo De Girolamo, 
Maria Gabriella Petti, 
Giselle Spitteri Direzione 

Doppiaggio 
Danilo De Girolamo, 
Leslie La Penna
Phineas Flynn Manuel Meli
Ferb Fletcher Fabio Valenzi (1° voce), Federico Campaiola (2° voce)
Candace Flynn Gemma Donati
Perry l'ornitorinco Manuel Meli
Dottor Doofenshmirtz Luca Dal Fabbro
Linda Flynn-Fletcher Antonella Rinaldi
Lawrence Fletcher Mauro Gravina
Buford Van Stomm Paolo Vivio
Isabella Garcia-Shapiro Benedetta Gravina
Baljeet Tjinder Marilisa Carnevali
Jeremy Johnson Alessio Puccio
Vanessa Doofenshmirtz Olivia Olson Perla Liberatori, Laura Amadei
Stacy Hirano Joy Saltarelli, Elena Liberati
Irving Gianluca Crisafi
Susy Maria Gabriella Petti, Valentina Pallavicino
Doppiatori originali
Phineas Flynn Vincent Martella
Ferb Fletcher Thomas Brodie-Sangster
Candace Flynn Ashley Tisdale
Perry l'ornitorinco Dee Bradley Baker
Dottor Doofenshmirtz Dan Povenmire
Linda Flynn-Fletcher Caroline Rhea
Lawrence Fletcher Richard O'Brien
Buford Van Stomm Bobby Gaylor
Isabella Garcia-Shapiro Alyson Stoner
Baljeet Tjinder Maunlik Pancholy
Jeremy Johnson Mitchel Musso
Maggior Monogram Jeff "Swampy" Marsh
Vanessa Doofenshmirtz Olivia Olson
Stacy Hirano Kelly Hu
Irving Jack McBrayer
Susy Kari Wahlgren
DVD
Elenco Epsiodi
Prima stagione
In onda su Disney Channel e Rai 2.
1 Rollercoaster Le montagne russe
2 Lawn Gnome Beach Party of Terror! La Festa in spiaggia del terrore
3 Flop Starz Pop star per un giorno
4 The Fast and the Phineas A tutto gas!
5 Lights, Candace, Action! Un..mostro di attrice
6 Raging Bully Abbasso i bulli
7 Candace Loses Her Head Occhio alla testa di Candace
8 I, Brobot Phinedroidi e Ferbot
9 Run Away Runway Top model per un minuto
10 The Magnificent Few Vita da cowboy
11 S'Winter Esverno o instate?
12 Jerk De Soleil Circo casalingo
13 Are You My Mummy? Mia sorella, la mummia
14 I Scream, You Scream Un errore di progettazione
15 Toy to the World Giocattoli per tutti
16 Get That Bigfoot Outta My Face! Chi ha paura del Bigfoot?
17 It's a Mud, Mud, Mud, Mud World Candace la sfascia tutto
18 Journey to the Center of Candace Viaggio al centro di Candace
19 It's About Time! Viaggio nel tempo
20 Dude, We're Getting the Band Back Together Ragazzi, rimettiamo insieme la band
21 Tree to Get Ready Lotta tra casette
22 The Ballad of Badbeard La ballata di barbadura
23 Greece Lightning Antichità, che passione!
24 Leave the Busting to Us! Beccati!
25 Mom's Birthday Il compleanno della mamma
26 Crack That Whip! La manovra della frusta
27 The Best Lazy Day Ever La miglior giornata del dolce far niente
28 Boyfriend from 27,000 B.C. Il mio ragazzo ha 27.000 anni
29 Voyage to the Bottom of Buford Viaggio all'interno di Buford
30 A Hard Day's Knight Torneo medievale
31 Traffic Cam-Caper Prove schiaccianti
32 Bowl-R-Rama-Drama Brividi al Bowl-R-Rama
33 Got Game? I giochi F
34 Comet Kermilian La cometa di Kermillian
35 Put That Putter Away Minigolf maxi-passione
36 Does This Duckbill Make Me Look Fat? Come ornitorinco sembro più grassa?
37 Ready for the Bettys In viaggio con la band
38 The Flying Fishmonger Il pescivendolo volante
39 One Good Scare Ought to Do It! Uno spavento che male ti fa?
40 The Monster of Phineas-n-Ferbenstein Il mostro di Phineas e Ferbstein
41 Oil on Candace Candace e l'arte
42 Out of Toon La fabbrica di cartoni animati
43 Hail Doofania! Evviva Doofania
44 Out to Launch La notte delle stelle cadenti
45 Phineas and Ferb Get Busted Phineas e Ferb in punizione
46 Unfair Science Fair Alla fiera della scienza
47 Unfair Science Fair Redux (Another Story) Alla fiera della scienza (un'altra storia)

Seconda Stagione
In onda su Disney Channel dal 6 maggio 2009, successivamente su Rai 2 e K2.
1 1a/b The Lake Nose Monster Il Mostro del Lago Naso
2 2a Interview with a Platypus Il Perry Traduttore
3 2b Tip of the Day Il mitico Puntale
4 3a Attack of the 50 Foot Sister Una grande sorella
5 3b Backyard Aquarium Un acquario per Goldie
6 4a Day of The Living Gelatin Il giorno della gelatina vivente
7 4b Elementary, My Dear Stacy Elementare Stacy!
8 5a Don't Even Blink Occhi aperti!
9 5b Chez Platypus Una cena davvero speciale
10 6a Perry Lays an Egg La Tecno-Mamma
11 6b Gaming the System Prigionieri nel cyberspazio
12 7a/b The Chronicles of Meap Le cronache di Mip
13 8a Thaddeus and Thor Prova di abilità
14 8b De Plane! De Plane! Il pellicano di carta
15 9a Let's Take a Quiz Facciamo un quiz
16 9b At the Car Wash All'autolavaggio
17 10a Oh, There You Are, Perry Oh, eccoti qua Perry
18 10b Swiss Family Phineas Una gita tempestosa
19 11a Hide and Seek Piccolo è bello
20 11b That Sinking Feeling Operazione Cupido
21 12a The Baljieatles Rock e roll
22 12b Vanessassary Roughness Chi fa da se...
23 13a No More Bunny Business Coniglietti? No grazie!
24 13b Spa Day Una giornata al centro benessere
25 14a/b Phineas & Ferb's Quantum Boogaloo Viaggio nello spazio-tempo
26 15a/b Phineas and Ferb's Musical Cliptastic Countdown Una fantastica Top-ten
27 16a Bubble Boys Tutti in bolla!
28 16b Isabella and the Temple of Sap Sulle tracce del Maracamandorio
29 17a Cheer Up, Candace Coraggio, Candace
30 17b Fireside Girl Jamboree Fireside Girl a tutti i costi
31 18a The Bully Code Il bullo servitore
32 18b Finding Mary McGuffin Alla ricerca di Mary Macguffin
33 19a Picture This Una foto e via!
34 19b Nerdy Dancin Gara di ballo
35 20a What Do It Do? Ingegneria inversa
36 20b Atlantis Atlantide
37 21a/b Phineas and Ferb Christmas Vacation Un Natale anche per Danville
38 22a Just Passing Through Oltre la materia
39 22b Candace's Big Day Il grande giorno di Candace
40 23a I Was a Middle Aged Robot Un robot di mezza età
41 23b Suddenly Suzy Lezione di perfidia
42 24a Undercover Carl L'agente Carl
43 24b Hip Hip Parade Il giorno dell'unificazione
44 25a Invasion of the Ferb Snatchers Ferb è un alieno
45 25b Ain't No Kiddie Ride Non è cosa per bambini
46 26a Not Phineas and Ferb Niente Phineas e Ferb
47 26b Phineas and Ferb-Busters Le Acchiappa-Phineas e Ferb
48 27a Lizard Whisperer Il ragazzo che sussurrava ai sauri
49 27b Robot Rodeo Il rodeo dei robot
50 28a/b The Beak Phineas e Ferb supereroi
51 29a She's The Mayor Candace, sindaco di Danville
52 29b The Lemonade Stand Il chiosco della limonata
53 30a/b Phineas and Ferb Hawaiian Vacation Phineas e Ferb - Aloha
54 31/32[1] Phineas and Ferb: Summer Belongs To You Un'estate straordinaria
55 33a/b Nerds of a Feather Fanta guerra tra fans
56 34a/b Wizard of Odd Divertiti Candace
57 35a We Call It Maze Questo sì che è un labirinto
58 35b Ladies and Gentlemen, Meet Max Modem! Un passato da star
59 36a The Secret of Success Il segreto del successo
60 36b The Doof Side of The Moon Tutta colpa della luna
61 37a Split Personality Doppia personalità
62 37b Brain Drain Robo-Perry
63 ??a/b A Very Perry Christmas Un Natale anche per Danville - Versione Estesa
64 38a/b Rollercoaster: The Musical! Montagne russe: Il Musical
65 39a Make Play Principessa per un giorno
66 39b Candace Gets Busted Questa non è una festa

Terza Stagione
In onda dal 13 giugno 2011 su Disney XD, mentre sul digitale terrestre dal 24 settembre 2012 su Rai 2.
1 1a The Great Indoors Quello che mi piace di te
2 1b Canderemy Inseparabili
5 3a/b Phineas' Birthday Clip-O-Rama! Un compleanno tutto da vedere!
3 2a Run, Candace, Run Corri, Candace, corri!
4 2b Last Train to Bustville Non mollare, Candace!
6 4a The Belly of the Beast Capitano Candace!
7 4b Moon Farm Il gelato lunare
8 5a Ask a Foolish Question Il supercomputer
9 5b Misperceived Monotreme Lo scambio dei monotremi
22 13a That's the Spirit Il brivido di Halloween
23 13b The Curse of Candace La maledizione di Candace
10 6a Candace Disconnected Un telefono da urlo
11 6b Magic Carpet Ride Che volo magico, papà
27 16a/b A Phineas and Ferb Family Christmas Un Natale in famiglia di Phineas e Ferb!
12 7a Bad Hair Day Una giornata con una brutta piega
13 7b Meatloaf Surprise Polpettone a sorpresa
14 8a Phineas and Ferb Interrupted Che vi prende, ragazzi?
15 8b A Real Boy Un vero ragazzo
28 17a Tri-Stone Area Rocce e dintorni
29 17b Doof Dynasty La dinastia Doof
31 19b Phineas and Ferb and the Temple of Juatchadoon Phineas e Ferb e il tempio di Kestafendo
30 18a/b Excaliferb Excaliferb
16 9a Mommy Can You Hear Me? Mamma, mi senti?
17 9b Road Trip Camionisti e dintorni
18 10b Tour de Ferb Non mollare, Baljeet!
19 10a Skiddley Whiffers Tira il dado e vai
20 11a/b My Fair Goalie La maledizione dell'Emù
36 12a Perry the Actorpus Perry L'attornitorinco[1]
25 15b Lotsa Latkes Una montagna di Latke
26 15a Ferb Latin Diciamolo in altro modo!
32 20a Monster from the Id La macchina della mente
33 20b Gi-Ants Formicaius Maximus
24 14a Escape from Phineas Tower Fuga da torre Phineas
34 14b The Remains of the Platypus Quel che resta di Perry
48 27a What A Croc! Urca! Che cocco!
21 12b Bullseye Bersaglio centrato!
35 21a Mom's in the House Il Perrytronic 3000
47 21b Minor Monogram Un acrobata per la giustizia
55 31a/b Where's Perry Part 1 Dov'è Perry? (prima parte)
56 32a/b Where's Perry Part 2 Dov'è Perry? (seconda parte)
39 23a Quietest Day Ever Il giorno più silenzioso
37 23b Bully Bromance Break Up Quel bullo ha un cuore
40 24a Doonkleberry Imperative Emergenza Doonkleberry
43 24b Buford Confidential Il segreto di Buford
49 28a Sleepwalk Surprise La sorpresa del sonnambulo
50 28b Sci-Fi Pie Fly Pizza fantascientifica
44 26a The Mom Attractor Il mamma-attrattore
45 26b Cranius Maximus Cranius Maximus
46 19a Agent Doof Agente Doof
57 27b Ferb TV Ferb TV
51 29a Sipping with the Enemy Un caffè col nemico
52 29b Try-State Treasure: Boot of Secrets Il segreto dei tre stati: La scarpa dei segreti
53 30a Doofapus Dottor ornitorinco
54 30b Norm Unleashed Norm un'arma quasi umana
58 33a When Worlds Collide Quando i mondi entrano in collisione
60 33b Road to Danville Sulla strada per Danville
62 34a Blackout Blackout
59 34b What'd I Miss? Che cosa mi sono perso?
61 35a/b This Is Your Backstory Questo è il tuo passato!
41 25a/b Meapless in Seattle Meap a Seattle
42 22a Delivery of Destiny Un ragazzo formidabile
38 22b Let's Bounce Saltiamo
Quarta Stagione
In onda dal 29 aprile 2013 su Disney XD. Segue l'elenco degli episodi.
1 Fly On the Wall La mosca sul muro
My Sweet Ride Una macchina per Candace
2 For Your Ice Only Acrobazie sul ghiaccio
Happy New Year! Felice anno nuovo!
3 Bully Bust Buford accetta la sfida
Backyard Hodge Podge Materiale da riciclo
4 Der Kinderlumper L'orco acchiappa bimbi
Just Desserts Solo dessert
5 Bee Day La giornata delle api
Bee Story Storia delle api
6 Sidetracked Depistati
7 Knot My Problem Il nodo Gordiano
Mind Share Scambio di cervelli
8 Primal Perry Perry terapia
9 La Candace-Cabra La Candace-cabra
Happy Birthday, Isabella Buon compleanno, Isabella
10 Great Balls Of Water Grandi bolle d'acqua
Where's Pinky? Dov'è Pinky?
11 Phineas and Ferb: Mission Marvel Phineas e Ferb: Missione Marvel
12
13 Thanks But No Thanks Grazie, ma no grazie!
Troy Story La storia di Troia
14 Love at First Byte Amore al primo byte
One Good Turn Accadde nel Drusselstein
15 Cheers For Fears Gli scherzi della paura
Just Our Luck Questione di fortuna
16 Return Policy Regolamento dei resi
Imperfect Storm La tempesta imperfetta
17 Steampunx Danville, 1903
It's No Picnic Operazione picnic
18 Terrifying Tri-State Trilogy of Terror Terrificante trilogia del terrore
19 Drusselsteinoween Appuntamento in maschera
Face Your Fear Affronta la tua paura
20 The Klimpaloon Ultimatum L'ultimatum di Klimpaloon
21 Doof 101 In classe con papà
Father's Day La festa del papà
22 Operation Crumb Cake Fermate la postina!
Mandace La finta Candace
23 Tales from the Resistance Storia della resistenza
24 The Return of the Rogue Rabbit Il ritorno del coniglio canaglia
Live and Let Drive Vivi e lascia guidare
25 Lost in Danville Sperduti a Danville
The Inator Method Il metodo inator
26 Act Your Age Comportarsi da adulti
27 Phineas and Ferb Save Summer Phineas e Ferb: Salviamo l'estate
28
29 Night of the Living Pharmacists La notte dei farmacisti viventi
30
31 Phineas and Ferb: Star Wars Phineas e Ferb: Star Wars
32
33 The Last Day of Summer Ultimo giorno d'estate
34
35 O.W.C.A. Nuovi agenti animali
36
37 Phineas and Ferb's Musical Cliptastic Countdown
Hosted by Kelly Osbourne Una fantastica top ten con Kelly Osbourne
Phineas e Ferb Crossover
Phineas e Ferb Missione Marvel