Cartoni.wiki

Film di animazione 2019

Film di animazione Disney, Film d'animazione per la famiglia, Ralph Spaccatutto, videogames, film 2018

21/04/2018

03/01/2019

1745
Voto medio degli utenti:

4

/

5

basato su

4

voti
Ralph Spacca internet è il film d'animazione Disney che troveremo al cinema a novembre del 2018 come sequel del precedente film del 2012 Ralph Spaccatutto
Ralph Spacca Internet (Ralph Breaks the Internet: Wreck-It Ralph 2) è il film d'animazione Disney, cioè prodotto dalla Walt Disney Animation Studios in 3D con animazione al computer, che troveremo al cinema dal 21 novembre del 2018. Il film è diretto da Rich Moore, Phil Johnston.
Ralph Spacca Internet è il sequel del film d'animazione del 2012 Ralph Spaccatutto dove avevamo conosciuto il protagonista Ralph fare per più di trent'anni il cattivo in un videogioco arcade dal titolo: Felix Aggiustatutto, in cui Felix aveva il compito di aggiustare tutto quello che Ralph distruggeva. Felix era il buono mentre Ralph il cattivo ed era considerato così anche quando si spegneva la corrente del videogioco e tutti i protagonisti ritornavano alle loro normali attività e ai vari festeggiamenti. Stanco di essere considerato da tutti un cattivo e di vivere in una discarica Ralph fugge dal videogioco e affronterà un'avventura che lo porterà ad avere la vita che voleva ma aiuterà anche la sua piccola amica Vanellope, incontrata nel suo viaggio, a riconquistare il posto che le spettava nel suo videogioco: Sugar Rush.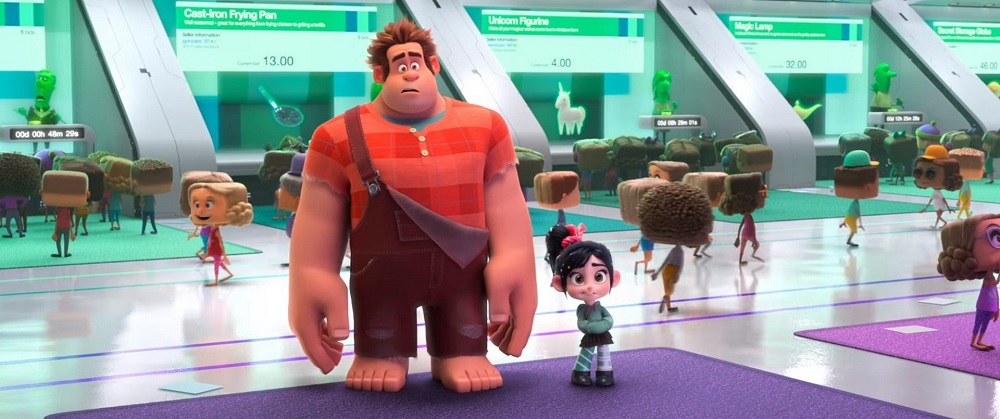 In questo sequel, Ralph Spacca Internet, ritroviamo i due amici, Ralph e Vanellope partire in un viaggio che li porterà nel mondo di internet dove incontreranno molti dei persoanggi più famosi dei cartoni animati Disney. Non mancheranno le Principesse Disney: Mulan, Anna, Elsa, Rapunzel, Vaiana, Tiana, Merida, Pocahontas, Cenerentola, Belle, Biancaneve, Aurora, Jasmine ma anche C-3PO, R2-D2 e Yoda di Star Wars e Iron Man e Gamora della Marvel Comics.


Rapunzel: pensano tutti che non hai problemi 
perché un uomo possente è entrato nella tua vita? 
Vanellope: Sii! Come mai lo pensano?
Principesse: è davvero una principessa!!! 
Biancaneve: ooohohoh
La storia è ambientata sei anni dopo i fatti accaduti nel primo film, quando un router wi-fi viene posizionato nella sala giochi dal signor Litwak che deve trovare una parte di ricambio per riparare Sugar Rush. Ralph e la sua amica Vanellope verrano trasportati in Internet dove conosceranno nuovi mondi, persoanggi e costumi.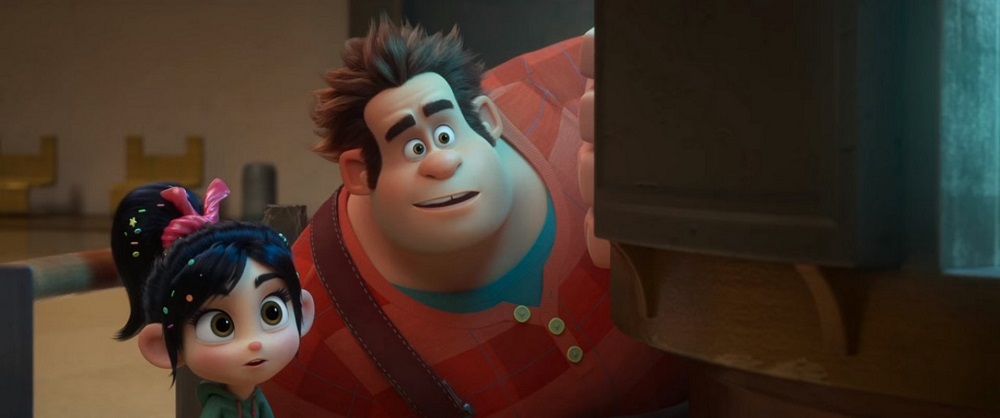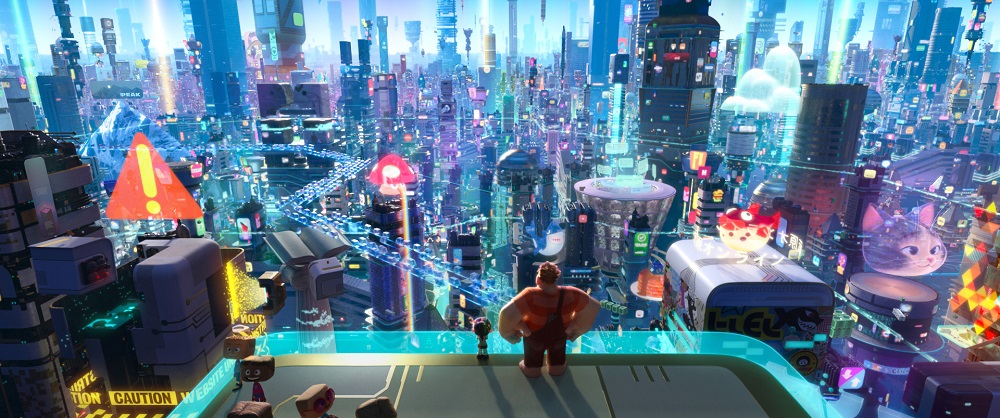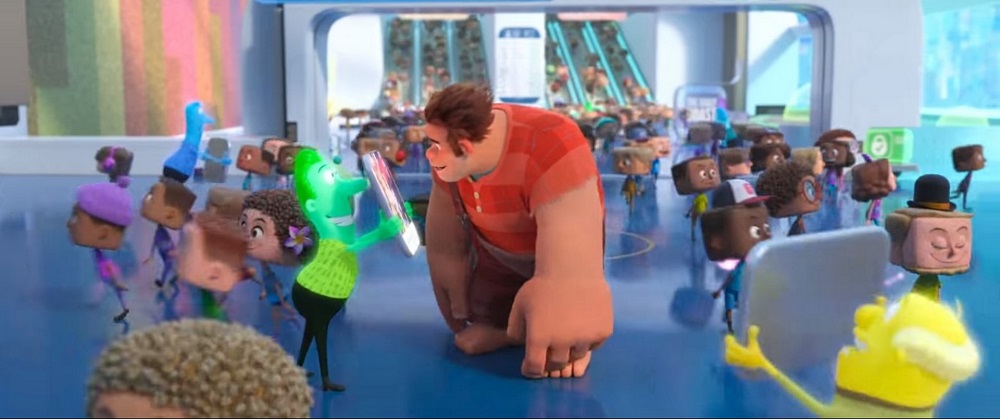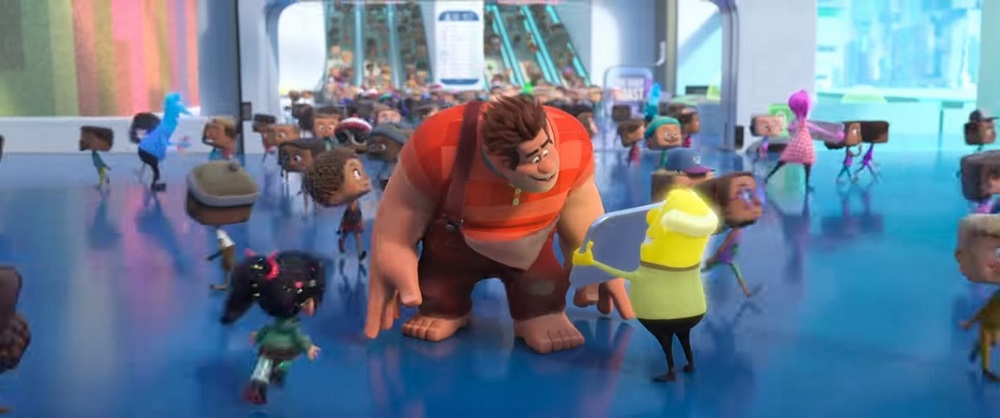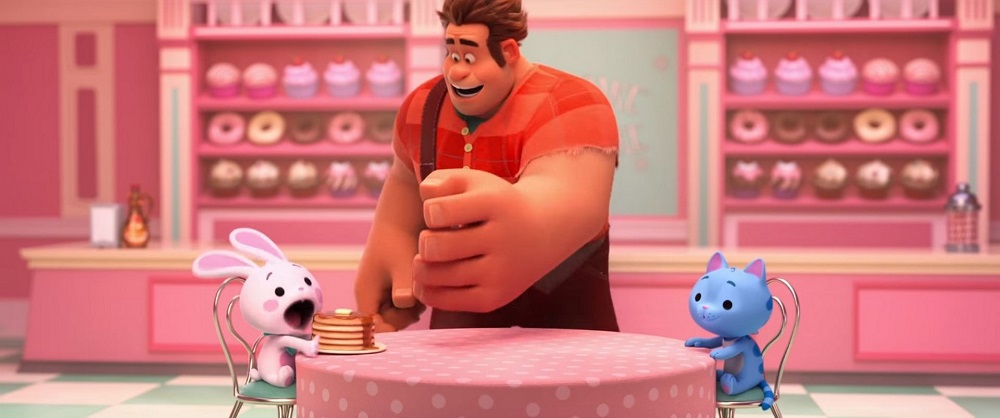 Nel film d'animazione Ralph Spacca Internet si vedono molti riferimetni al mondo Disney:
La lampada di Aladdin è tra gli oggetti in vendita su eBay.
I piatti di Star Wars con Yoda e Chewbacca possono essere visti sullo scaffale nell'ufficio di Litwak.
Il blog ufficiale Disney, Oh My Disney , è uno dei siti che Ralph e Vanellope visitano nel loro viaggio. Il sito è popolato da numerosi personaggi Disney, oltre a personaggi di sussidiari di proprietà Disney: Pixar, Marvel e Star Wars. L'ingresso al sito è modellato sull'ingresso a Disneyland , mentre l'interno del sito è modellato sul pavimento di una D23 Expo .
Una bambina, uguale alla piccola principessa Moana appare in una scena, come una bambina moderna mentre gioca ad un'app che Ralph e Vanellope dirottano.
Colonna sonora
Ralph Breaks Internet (Original Motion Picture Soundtrack) è la colonna sonora del film Disney con lo stesso nome che è stata composta da Henry Jackman che aveva già lavorato sulla musica di Ralph Spaccatutto. La colonna sonora è stata distribuita in formato digitale il 16 novembre 2018 per poi essere distribuita su cd il 30 novembre 2018.
Francesca Michielin per la colonna sonora italiana ha scritto e interpreta il brano "Il mio posto a Slaughter Race" .
Quasi tutta la musica originale è stata composta da Henry Jackman.
"Zero" Scritta da: Dan Reynolds, Wayne Sermon, Ben McKee, Daniel Platzman and John Hill - Eseguita da Imagine Dragons - 3:30
"A Place Called Slaughter Race" Scritta da: Alan Menken (musica), Phil Johnston e Tom MacDougall (testo) - Eseguita da: Sarah Silverman and Gal Gadot - 3:28
"In This Place" Scritta da Menken (musica) e Johntson and MacDougall (testo) - Eseguita da Julia Michaels - 3:21
"Get Rich Quick" 1:43
"Shank" 3:03
"Hanging Out" 1:03
"BuzzzTube" 1:42
"Overnight Sensation" 2:52
"Separate Ways" 1:04
"Vanellope's March" (frasi di "The Imperial March" e "Main Title by John Williams) 0:46
"Desperate Measures" 1:20
"Don't Read the Comments" 1:49
"Growing Pains" 1:35
"Double Dan" 3:36
"Scanning for Insecurities" 1:54
"Breaking Up" 2:46
"Replicate-It Ralph" 1:20
"Operation Pied Piper" 2:38
"Kling Kong" 3:39
"The True Meaning of Friendship" 2:16
"A Big Strong Man in Need of Rescuing" (include musica da Oceania, LA piccola sirenetta, Frozen, Ribelle, Mulan, Pocahontas, e la Principessa e il ranocchio di Lin-Manuel Miranda, Menken, Christophe Beck, Patrick Doyle, Jerry Goldsmith, Menken, and Randy Newman.) 1:55
"Letting Go" 1:49
"Comfort Zone" 1:32
"Worlds Apart" 1:22
Ralph Spacca Internet: doppiatori originali
Tutti i doppiatori di Ralph Spaccatutto riprenderanno i loro ruoli nel nuovo film e sarà così anche per le voci delle principesse e dei personaggi di Star War e della Marvel.
John C. Reilly: Ralph Spaccatutto
Sarah Silverman: Vanellope von Schweetz
Jack McBrayer: Felix Aggiustatutto
Jane Lynch: Tamora Jean Calhoun
Alan Tudyk: Walter Cyber
Kelly Macdonald: Merida
Kristen Bell: Anna
Mandy Moore: Rapunzel
Auli'i Cravalho: Vaiana Waialiki
Taraji P. Henson: Yesss
Ming-Na Wen: Mulan
Idina Menzel: Elsa
Anika Noni Rose: Tiana
Jodi Benson: Ariel
Anthony Daniels: C-3PO
Irene Bedard: Pocahontas
Jennifer Hale: Cenerentola
Paige O'Hara: Belle
Kate Higgins: Aurora
Rebecca Wisocky: Ebay Elayne
Linda Larkin: Jasmine
Rich Moore: Aspro Bill
Katherine Von Till: Biancaneve
Della Saba: Swatti
Ed O'Neill: mr. Litwak
Charles Martinet: Mario
Edy Ganem: Cyndi
Massimo Rossi: Ralph Spaccatutto
Gaia Bolognesi: Vanellope von Schweetz
Serena Rossi: Anna
Serena Autieri: Elsa
Melusine Ruspoli: Jasmine
Nicoletta Romanoff: Aurora
Ilaria Latini: Biancaneve
Monica Ward: Cenerentola
Laura Lenghi: Mulan
Domitilla D'Amico: Tiana
Federica De Bortoli: Rapunzel
Rossa Caputo: Merida
Emanuela Ionica: Vaiana
Sergio Parisse: Zangief
Salvatore Aranzulla: Pop-up

Titolo originale
Ralph Breaks the Internet: Wreck-It Ralph 2

Lingua originale
inglese

Paese di produzione
Stati Uniti d'America

Anno
2018

Rapporto
2,39 : 1

Genere
animazione, commedia, 
avventura, fantastico

Regia
Phil Johnston, Rich Moore

Sceneggiatura
Phil Johnston, Pamela Ribon

Produttore
Clark Spencer

Produttore esecutivo: John Lasseter

Casa di produzione
Walt Disney Animation Studios, 
Walt Disney Pictures

Distribuzione (Italia)
Walt Disney Pictures

Fotografia
Brian Leach

Effetti speciali
Scott Kersavage

Musiche
Henry Jackman

Scenografia
Cory Loftis

Animatori
Jason Figliozzi, Dave Hardin, 
Robert Christian Huth, Daniel Klug, 
Justin Sklar
Video
Error getting the videos
: { "error": { "code": 403, "message": "The request cannot be completed because you have exceeded your \u003ca href=\"/youtube/v3/getting-started#quota\"\u003equota\u003c/a\u003e.", "errors": [ { "message": "The request cannot be completed because you have exceeded your \u003ca href=\"/youtube/v3/getting-started#quota\"\u003equota\u003c/a\u003e.", "domain": "youtube.quota", "reason": "quotaExceeded" } ] } }